About us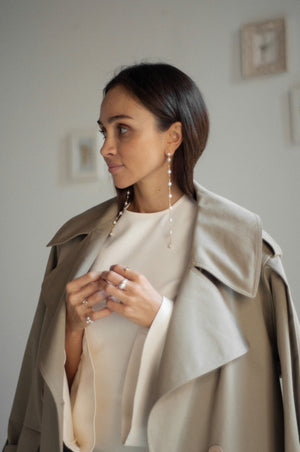 Hello, I am Kateryna Kritskaya, the founder of Matiere79.
Matiere 79 is a jewelry boutique in Odessa with carefully selected jewelry from independent designers from around the world.
Like many women, I have always been passionate about fashion in general and jewelry in particular. But I had no idea that the jewelry business would become a matter of my life.
For a long time, I lived in Canada during my university studies in Arts & Business. I seriously intended to apply my knowledge in the family business related to natural stones in architecture and interior design. That is why I often traveled in search of natural stones: marble, onyx and other natural materials.
On one of these business trips, I accidentally visited an exhibition of jewelry in India. This is where the history of Matiere 79 and its own business started.
After the exhibition, the idea to start doing rare jewelry with a bright character appeared spontaneously but developed quite organically. I decided to try it and since then I cannot stop. The search for talented designers all over the world was a kind of quest for me, which first resonated with friends and then with other jewelry lovers.
I am not only attracted to jewelry: I spend a lot of time searching for Matiere79 jewelry. Often these are more daring, fresh, and democratic combinations of shapes than the classic models of famous jewelry houses.
It is very important for me to get to know each designer of the brands presented in Matiere 79 personally. In addition to the aesthetic component of the jewelry, I pay attention to the massages and philosophy established by the jewelers. It is often a special combination of art, painting, literature, sculpture and fashion.
That's why most of the brands in Matiere 79 have a powerful energy and semantic foundation. This approach makes jewelry from Matiere 79 more than just accessories – they are family stories, which over time turn into relics.
I will be very happy to see you in the Matiere 79 boutique and share with you amazing discoveries of XXI century jewelry art.
Odesa, Sady Peremogy Shopping Mall 1st floor